Side Hustles That Will Make You Money Now
*Asterisks set out in this article relate to advertising and they indicate that the author receives a small share of sales through the related link.*
Want to earn more money? Who doesn't, right?! I think we could all benefit from some extra money, whether that be a small amount such as £100 extra per month, or thousands extra. Sound impossible? It's not.
If I can do it, then so can you.
I've earned extra money on the side around jobs, Uni, my daughter, and still had time to play hockey and spend time with friends. Guaranteed if I didn't have these commitments though, I would be able to earn a lot more.
If you are thinking of earning extra money, and you most likely are if this article caught your eye, it could be for the following reasons:
Save for a house deposit
To buy a car
General lifestyle e.g. new clothes, nights out
To keep afloat
There are loads of possible reasons, but these are all pretty good ones to have!
I have personally used my side hustle money for paying off my debt, taking my daughter on her first holiday, and I'm currently using it for personal/general lifestyle things. In the future, it will be used for saving for a house deposit (keep tuned for that!).
When you have come to the decision that you want to make more money, the hard part can then be deciding how you are then going to do that! If this is something that you haven't previously ventured into, it can be a bit daunting knowing where to begin.
Luckily, there are a bunch of different things that you can try your hand at and see what works best for you.
Blogging
I had to start with blogging because I love it so much! There are millions of blogs out there, so blogging is pretty popular – but not all of them are making money – never fear, as I can share with you ways in which you can make money from your blog.
Blogging is a great side hustle because it's flexible; you can do it at any time you wish, although it does help to have a routine and schedule.
It also has such a low start-up fee – a few pounds per month for your hosting – and although you can set up a blog on a free platform, I advise against this as it's much harder to monetise.
To get started, you'll need to choose a name for your site, and then set up a WordPress.org account and choose your hosting. I have a step by step guide on here that will help you set this up easily.
There are lots of different blog hosts out there but the one that I use is the most highly recommended and reasonably priced that I've come across.
There are several ways that you can make money from your blog, such as:
Affiliates
This is where you recommend a product or service, and when a reader clicks on that specific link and makes a purchase on the other end, you receive a commission for referring them.
An example of this could be if I said to you I really love the book She Means Business* for getting started with your business. <<< that's an affiliate link for something that I have used and can recommend.
It's not as simple as just throwing links up all over the place – they ideally need to be things that you have personally used so are able to make a real recommendation for them.
There are lots of blogging niches, and affiliates can be used in all of them – fashion bloggers tend to do really well at affiliate sales because of the clothes/shoes/makeup etc that they are constantly promoting. But even if you have a money saving blog, you will still be able to recommend affiliates if you use things that will help people e.g. apps, or sites that help you to make extra cash.
Adverts
When you click onto a blog, you will most likely see some adverts around, and if you click on these the owner of the site will get some money for this.
There are lots of different ad networks, and good starter ones are Google Adsense or Media.net*. When you reach higher page views you can apply to ad networks which pay more such as Mediavine.
Sponsored Posts
Sponsored posts are articles that you host on your site that promote a certain brand/company, and they pay you to do so.
They will pay you to do so because when you have a blog you have an audience – and if you have an audience that the company in question want to get their product in front of, this can be very beneficial for them.
Obviously the more engaged and larger your following, the more that you are able to charge – but please make sure that you do not undersell yourself, as it takes a lot of work to put a post together, to promote it, and your audience is worth money too – because you have spent time and effort growing it.
There are lots of other ways that you could make money from your blog, but the ones above are the most common.
Other ways can include: your own products, coaching, offering other services e.g. blog auditing; brand ambassadorship, membership sites etc.
Mystery Shopping
I'm a big fan of mystery shopping, mainly because it's meant that I've gotten a lot of free food out of it! When I started mystery shopping I was NOT in a good place with my finances and living extremely frugally (which was hell) and the opportunity to have some tasty food and not have to pay for it was the best.thing.ever!
It's not just food that you can get for free either but things like clothes, trips, jewellery etc. Not all of the jobs will have the food fully refundable – you can get it partially refunded – so make sure that you check the reimbursement before you accept the job.
Mystery shopping sounds like a scam to many people, and unfortunately, there are scams out there, so make sure you research the company in question. Or better yet, use my favourites:
Market Force* – my favourite one. They frequently have plenty of jobs and they are with very well known companies. This is the one that I get most of my jobs from.
Grassroots – I have only done one job with Grassroots as they don't seem to be as frequent, but it has been the highest paid one that I've done so far (it was for a travel agency).
Red Wigwam* – this company are a temp recruitment agency with a ton of different jobs available. When you register, you can select which jobs you would like to appear to you – you can select mystery shopping if this is all you want to use the website for.
Mystery Dining Company – the assignments on this are a bit different because they tend to just reimburse you for your purchase and don't pay an additional fee. However, I have seen them pay a small fee if it is an urgent job.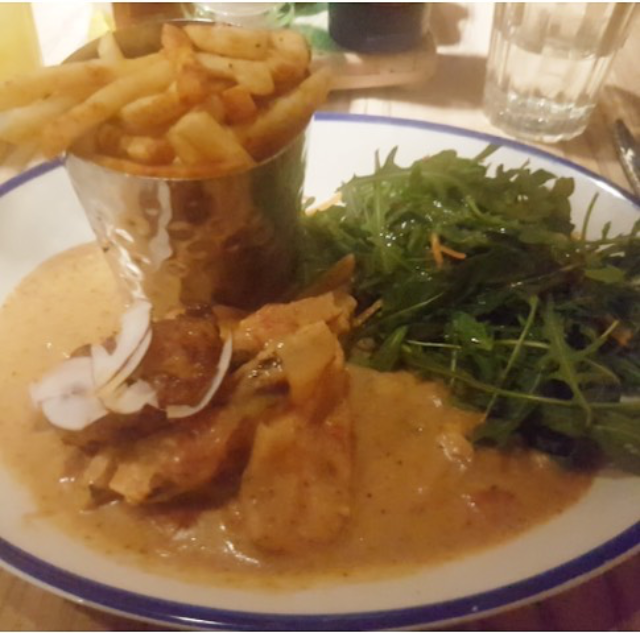 Entering Surveys
This is a really good way to get into earning extra cash because it's something that you can do anytime, such as when you are sat watching TV, or commuting to work (not if you're driving a car though, please don't do that!!).
When I told my friend about completing surveys recently, she couldn't believe that companies pay you to answer questions – but they use it for market research, so it's very valuable to them…unfortunately not valuable enough to pay you a ton of money, but there are some sites that pay better than others.
Again, there are unfortunately lots of spammy survey sites, so it's generally best to go off recommendations – my favourites include:
Some other sites that my friends use but I don't personally (only due to time constraints) are:
Some survey sites for my U.S. readers are:
Dog Boarding/Pet Sitting
This is something that I do personally, and love it – what's not to love about cuddling dogs and taking them for walks and getting paid for the privilege?!
Lots of pet owners go on holiday or get married etc, so they need someone to look after their faithful friends…and will pay for it. There is a site that I use to get my clients*, and the services that are offered on there include: dog boarding, dog walking, cat sitting, dog sitting and small animal care.
Everyone that I have recommended this to and now does it as a side hustle, absolutely love it. It's such an easy way to make extra money in my opinion because it doesn't feel like work.
I actually really enjoy when I'm out walking a dog that I am looking after because it gives me time to reflect (I'm always on the go).
Sell Your Stuff
I swear nothing is more addictive and fun than selling all of your junk!! It will amaze you at what people will buy, but trust me, buy they will.
When you start looking through your stuff to sell, it can be a bit difficult because there will likely be sentimental things hanging around, or really pretty things that you are convinced that you will definitely use 'one day'.
But don't worry, you will become more ruthless about it all as time goes on!
Something that I do, that will hopefully help you, is to think about moving house. If you were to move house in the near future, would you really want to pack up every single item that you currently have in your house? I know I wouldn't! So think about what you wouldn't want to take with you – it's a good start at least.
Places that are great for selling your things on include: Facebook Marketplace, Gumtree, eBay, car boot sales, and there are tons more such as apps e.g. Depop, Shpock. Get rid of that clutter and make some cash!
Matched Betting
Whenever I try to explain this to someone, their eyes glaze over…and they are convinced that they can't do it/can't be legit/no good with numbers/too complicated/don't like gambling/every excuse under the sun that will stop them from doing it.
I promise you, once you get your head around it, you will kick yourself – because it's incredibly simple and you don't need to be good at maths at all.
It's not gambling either – I promise. That being said, if you have had a gambling problem in the past it's probably best that you stay away from the betting sites – so skip this one and find another side hustle that will work for you. Matched betting isn't gambling because you don't care if you 'win' or 'lose' – you're going to get money back either way.
To repeat, it is NOT gambling. The plan is to get back the free bets that bookies offer you – in cash.
The method to doing this is pretty simple, but in order to get the most profit it's worth signing up to a site that will help you find the most lucrative to do – and will save you a ton of time trawling through all of the sporting events.
I have a post where I explain matched betting in detail – and you can sign up to the site that pretty much everyone uses for their matched betting (you can make hundreds every month).
Enter Competitions
This is something I always promise myself that I will do more – especially when you look at how much other compers have won. It's crazy seeing what kind of prizes are up for grabs – but it's an easy way for companies to do their marketing, so it's worth it to them.
I was lucky enough to get some tips from Di Coke who is a comping legend and an incredibly lovely person to boot.
She shared her top tips over on this post – and take a look at the prizes she's won! (Not jealous, not jealous).
Rent a Room In Your House
Please tell me I'm not the only person who would absolutely love to run a B&B?!
There's just something so idyllic about it, I picture myself in a cute little cottage in the country…but I don't have one of those, and I'm not suggesting you run a B&B either (got a bit carried away…).
What you can do though, if you own your own home and have a spare room, is to get a lodger. It's a great side hustle, and it's completely on your terms as well – you get to choose the person who shares your home – and which days as well (e.g. some people may only want during the week due to work).
It's tax-free up to £7500 per year, which is SUCH a big amount of money to get directly into your pocket – imagine what you could do with that much money?
It doesn't have to be forever either – you could have a short term lease for a few months to get the cash rolling in, and then get your home back.
Do you have a favourite side hustle? Please share in the comments below!