Make Money From Your Hobbies
As you have probably guessed by now, I am a big fan of making extra money on the side.
But if you already have a job/kids/millions of other things going on, it can be a drag to add yet even more things to your list of things to get done. If you are working really hard on making extra money, it can get you down and not be enjoyable in the slightest.
Well, this is where making money with your hobbies can come in!
You can also find in this article money making ideas for retirees, hobby ideas careers, and it will help you if you are wondering "what can I do in my free time to make money?".
Related posts:
How To Make An Extra £100 This Month
The Budget Planner That Will Change Your Life
#1 Blogging
I had to start with blogging, because I really, really love it. I have been doing it for a few months now but I wish I had started sooner as it was always something I thought about doing but just didn't dive into.
There are lots of ways to make money blogging such as:
Sponsored posts
Adverts
Affiliate links
Products – for example I sell my budget planner on my blog
If you want to achieve high figures, you have to work your behind off and work smarter, not harder. If you are thinking about starting a blog, I have a step-by-step guide here.
I recently shared my first blogging income report for a bit of transparency and hopefully, some inspiration for wannabe bloggers.
If any newbie bloggers would like any advice on setting up a blog for monetising, please don't hesitate to ask me.
#2 Drawing
As always, I try and only really advise ideas that I personally do or my friends. Now with drawing to make money, I have 3 friends who sell their pencil drawings and paintings on the side.
They are amazing artists and were all doing it as a hobby and then received interest from people wanting to buy their work. One of them just had an art gallery exhibition!
Another of my friends is also amazing at drawing and he quit his job to pursue a career as a tattoo artist and is doing really well.
If you are good at drawing, there are various places that you can sell your art such as Facebook or Etsy. If you aren't sure whether people would be interested in buying your art or not – put it up on Facebook or Instagram for your friends to see and look at their reaction.
#3 Photography
If you are permanently found behind a camera, then photography as a side income would be perfect for you. It seems like more and more people are falling in love with photography – but we are such visual creatures, I can definitely see the appeal.
One of my friends was taking beautiful photos just for fun like when she was at weddings, and people started to notice – and ask if she would be their wedding photographer! She has now quit her job to become a wedding photographer. Love this!
In addition, my best friend is an amazing photographer and I have finally bullied convinced her to enrol on a photography course which starts next month.
She wants to become a professional photographer now, (which means I have been reading a million photography blogs for juicy info!) and is a perfect example of realising your hobby can become a source of income.
As well as becoming a professional photographer along the lines of wedding photography etc, there are other possibilities such as selling stock photography packages (I am obsessed with stock photos, and bloggers are a huge audience to sell to), and there are sites that accept photos and pay you a fee.
#4 Mystery Shopping
Love shopping? I do mystery shopping, which means that I get paid to shop! It's really simple and you don't have to be a difficult customer – just order things like you would do usually and maybe ask a specific question.
I get a lot of free food this way and have received free clothes and trips. It is a lot of fun and I would recommend everyone try it. Check out my post where I recommend my favourite mystery shopping companies.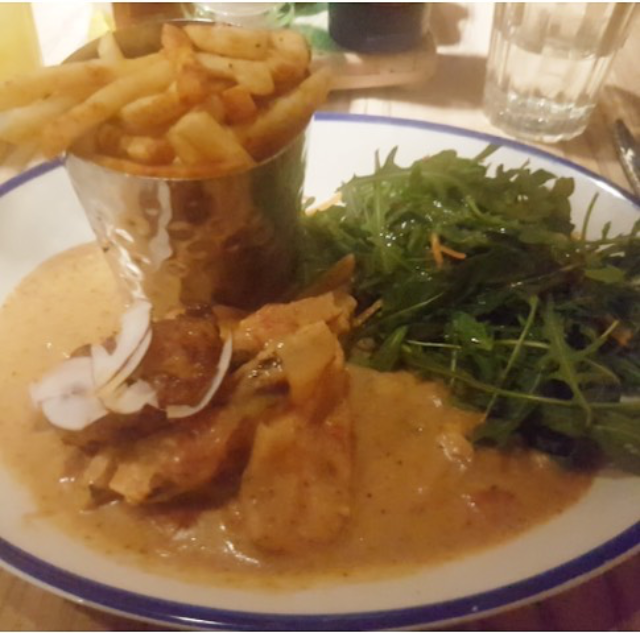 #5 Writing
If you have a love of writing, then there are lots of side hustles that are open to you. There is blogging, which I have already mentioned, and freelance writing is something that a lot of bloggers find themselves doing in addition to their blogging work.
Your blog can be an excellent platform for showcasing your writing talent and can set you up as an authority in your niche. If you are interested in becoming a successful freelancer then there is a great course that you can take called 30 days or less to freelance writing success*.
Personally, freelance writing is one of my favourite ways of making extra money. Now that I've paid off my debt, I make sure that I only concentrate on things that make me happy.
I always knew that I was an excellent writer, but I was nervous about approaching people for work, because I knew it would upset me if I was rejected.
Of course, this was a mindset problem and it turns out that I couldn't be further from the truth. I was successful immediately and I regretted not having taken the leap sooner!
Another way of making money via writing is by writing an eBook which can be in relation to your blog, or you could self publish anything you like. More and more authors are self-publishing and doing pretty well out of it – have you heard of Fifty Shades of Grey* for example?
#6 Baking
There are lots of different things that you can bake and then sell – if you are a skilled baker. Bear in mind though that you will have to register with the council and your kitchen will have to be inspected as you are selling food to people and they need to check for hygiene.
My ffriend's sister (got to give you an example!) has recently started a cake making business and is doing really well – her cakes are beautiful.
I have another friend who makes cakes as a hobby for friends and family and makes sure that she doesn't do too many as it starts to become stressful if she does (she made one of my daughters birthday cakes for us).
It doesn't just need to be birthday cakes though – you could sell cupcakes, cookies, Christmas cakes and more. Sell on Facebook, set up a website, sell at markets and fairs.
#7 Fixing Cars
One of my ex-boyfriends loves nothing more than fixing up old cars and motorbikes and then selling on for profit. He is a mechanic but has always had a love for it, and fixes cars on the side – mainly for the love of it with the money as an additional bonus.
If you love fixing cars and are good at it, this could be a really lucrative income stream as there are always cars that need fixing or doing up. You could look on Gumtree or Autotrader or police auctions and find vehicles that need a bit of TLC.
#8 Flipping Items
Trawling a car boot sale, charity shop or flea market can be a great day out and a lot of fun if you find some valuable items hidden within the junk.
As well as finding cheap objects for your household or presents for family and friends, this is a profitable hobby if you flip the things that you find for a profit. You can re-sell on eBay, Amazon or even put them on Gumtree.
I love doing this, and my daughter does too because she views them as giant toy stores where everything is really cheap – she doesn't care that they are second hand.
With car boot sales and similar, most people just want to get rid of everything for a low price, which is where you can use this to your advantage and make a profit from doing a bit of research and a little bit more effort.
#10 Crafting
Sewing, knitting, painting – all crafting things that you can sell on marketplaces such as eBay or Etsy*. This can be very flexible so is perfect as a money generating hobby – you can sell however much you are able to produce without becoming stressed.
I was just talking to a lady the other day who mentioned that she makes and sells Princess dresses for little girls as a money-making hobby (they are gorgeous dresses!) and she said that she has been inundated with orders.
#10 Refereeing/Coaching
I've lumped these two together because they can go hand in hand. If you are a sports fan, becoming an umpire or a referee can be a great way of watching the sport you enjoy for free, whilst feeling a part of the game as well.
No matter which level you referee in, you should be paid – but the higher up in leagues that you are able to go, the more you earn. For example, the average salary for a referee in the football Premier League is £70,000 per year – with an average game salary of £1,150 (for 90 minutes work!).
You can take coaching courses if you are passionate about the sport and helping the younger (and older!) generation progress and improve in their game.
All of the coaches I know through my hockey teams are current or recently retired players who still love the game.
Does anyone make any money off their hobby? Let me know in the comments – I would love to know!
Ways To Make Extra Money Now: