How To Make An Extra £100 This Month
*Asterisks set out in this article relate to advertising and they indicate that the author receives a small share of sales through the related link.*
When I was in a bad place with my money, I had no idea how to go about earning extra money that I could do around my little girl, who took up so much of my time already!
I didn't know where to start, and to be honest, procrastinated over it for a while.
Then one day, I started.
And do you know what? Everything changed, and I mean eeeeverything.
Fast forward a few years down the line and so much has changed, but all in a positive way, and I'm in a really happy place now.
That's not to say that life didn't throw some curveballs at me, but earning extra money definitely helped to change things for me for the better.
I've written before about how to make an extra £1000 per month, but I realise that may seem a bit overwhelming to those who are just starting out, and whenever I ask what amount of money would make a difference into your life, the majority of responses I get say £100.
#1 Surveys
Surveys are a great little earner, and a lot of people do them as their first step into the world of earning money online because it's low risk and low stress.
I know you are probably feeling a bit apprehensive about survey sites – most people are. They look spammy, they seem like a lot of effort for not much return, and you aren't sure where to begin.
I still do surveys, even though I am well along my money making journey and making a lot of money from other sources (like blogging), because I still feel as though it's a really easy way to make extra money when you have a spare few minutes and don't fancy doing anything that requires a lot of brain work.
I'd recommend signing up to a bunch of them, and then finding which ones work best for you. I don't do well if I try and use loads of different sites because it all becomes a bit overwhelming and all over the place.
My personal favourites that I frequently use are:
Pinecone Research (not always accepting applicants, so keep an eye out for an opening)
There are other survey sites that you can use that I have heard good things about but don't personally use:
Some survey sites for my U.S. readers are:
#2 Matched Betting
Have you heard of matched betting before? Don't skip over this one, as this has huge earning potential – probably the most consistent from everything on this list.
You don't need to be good at gambling, know anything about sports or be a maths whizz.
You know when betting sites offer you an incentive to get them to sign up with them, e.g. £50 free bet for joining? The plan with matched betting is to get that free bet back – in cash.
There's a process that you can do to do this, and it's completely legal and tax-free.
Basically what you are doing is placing a bet on a betting site (using the free bet offered), and then an opposing bet on a betting exchange site. That's it!
The reason that it gets confusing is that you need to do it on bets that are similar in odds so that you don't lose any money, and that can take a lot of time, plus odds on bets change really quickly.
I have used a site called OutPlayed*, and all of the other people I know that do matched betting use it too and love it. They have videos and guidance to walk you through all of it, and calculators and tools to find you the best bets.
You can do it at any time of the day so it's nice and flexible to do around work, the kids etc, and you will get faster and more efficient the more that you do.
#3 Selling Your Things
This may seem like an obvious one, but I wanted to start with something relatively easy to do, and that you can do at any time of the day.
Before you think that you have nothing to sell, this is something that I always find myself thinking, but I always find something to sell. I've been decluttering my stuff and selling them for years now, and I think I'm pretty ruthless with what I get rid of. But I always find more!
I think part of it is probably that my daughter is getting older and therefore growing out of clothes and toys – I expect that a lot of you reading this are in the same boat though.
Another common misconception that I find with selling your stuff, is thinking that no-one would be interested in buying it. I have thought this many times, and had people say that I would never sell certain items…but they sold! It's truly amazing what some people buy, so please don't be discouraged for putting anything and everything up for sale.
There are tons of things that you can sell from around your home, such as:
Toys
Kids clothes
Your clothes
Furniture
Perfume/aftershave
Giftsets
Electronics
DVD's
Books
Paint/decorating stuff
Cutlery, glassware
There are obviously lots more things that you can sell, but that's just some to give you food for thought. As I said, I have sold things before that I honestly didn't think that anyone would buy, but I will personally take a little bit of money over £0 for throwing it away any day.
Once you've made yourself a little pile of items to attempt to sell, you need to have a think about the best places to sell them! I find a mixture is really good, I personally always try sites that are free (no fees) to sell on first, such as Facebook and Gumtree. These are great for bulky items like furniture, as you are generally getting people to pick these up from you.
Some things will sell better on eBay – I tend to put clothes that are good brands on eBay, and they typically sell and do well on there.
There are other places that you can sell on too, but I don't personally use them as I find 3 sites enough at the moment:
#4 Mystery Shopping
The first thing that I tried on my tentative journey of making money from home, was mystery shopping! I'm not sure why I tried this first, but it was probably the lure of free food.
That's another benefit that you may not think of when it comes to hustling – you can actually save money on some things that you do as well.
I thought that because I wasn't in a city centre and didn't have loads of shops near me, that there wouldn't be any jobs available and it would be pointless. I was wrong!
There are loads of things that you can get for free (or for a reduced fee, depending on which jobs you choose), some examples of what I've got are:
Breakfast
Lunch
Evening meals and drinks
Drinks
Soft play with my daughter
Clothes for me
Clothes for my daughter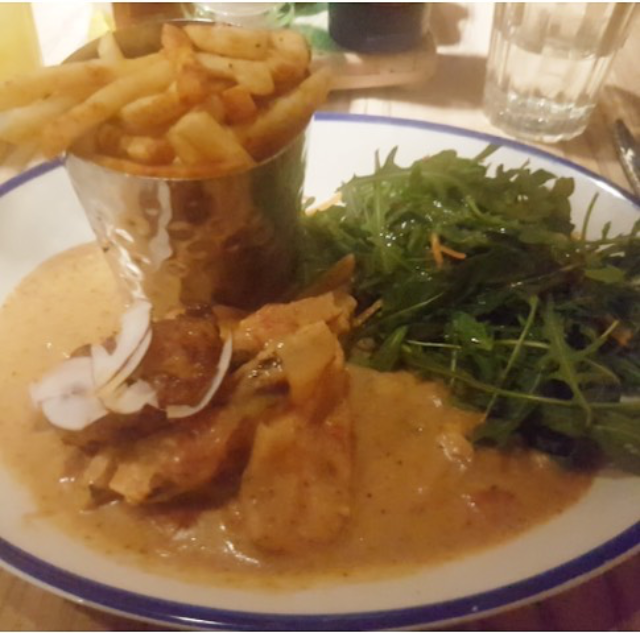 It's not as scary as it sounds – I don't know about you, but I thought with mystery shopping it was all very secretive and you would be pushing them to mess up.
That's not the case at all though, so it's much easier than you think.
Generally (as all jobs will be different and vary from company to company), you will be evaluating a service.
So for example, if you are doing a mystery shop on a bakery, you may be asked to buy a sausage roll and a hot drink and see how they interact with you, serve you, and if they offer you extras.
You'll be told beforehand what you have to do, but it's usually just acting naturally and buying something. After you've done this, you'll have to write up a short report on your experience.
Grassroots
Mystery Dining Company
The fees aren't huge on these jobs, but there are some which are higher paying, so I definitely think it's possible to earn £100 a month from it.
#5 Dog Boarding/Sitting/Walking/Cat Sitting
Whenever I suggest this as a money earner, I'm often met with resistance "I work all day", "I already have a dog" etc – and that's fine if you don't want to do it, but these can be flexible, and you can pick and choose which jobs you go for.
I have personally done dog boarding and cat sitting (even though I am highly allergic to cats) and made quite a lot of money from doing it.
When I was working from home full time I could book lots of jobs in, then when I was working in an office part-time I did less as I obviously wasn't at home as much. Now I am working part time but it's every day, nevertheless, I have a job booked in for Friday afternoon – Sunday, so it works perfectly around my job.
Cat sitting jobs I've had have wanted me to pop in first thing in the morning and then in the evening to feed them – so this can easily be done around a job or other commitments as well.
I use a fab website called Tailster* to book in all of my jobs and I think they are great. They always have jobs and clients coming to them, and you can choose which jobs you quote for.
You could easily make £100 per month from looking after a dog for a few days – or more!
#6 Selling on Etsy
Are you a bit crafty and creative? Etsy* is a huge marketplace that you can sell things that you have made on.
If you have a look on the site, there are loads of items that you could sell, such as:
Wedding invitations
Spreadsheets
Clothing
Toys
Printable art
#7 Blogging
Blogging is one of my favourite ways to earn extra money, and whilst it's unlikely that you'll be earning a ton from the offset, it has great earning potential.
You get out of blogging what you put into it, so if you spend one hour a month on it you're probably not going to make much unless you are a celebrity!
There's a lot more that goes into blogging than chucking up an article – it requires a fair bit of work. I'm not telling you this to put you off, as blogging is one of my favourite things to do and I'm incredibly happy I started my blog, but to give you a realistic view,
There are a few different ways of earning money from your blog, the most common ones are:
Affiliate marketing
Adverts
Sponsored posts
Products
I have personally sold my budget planner on Etsy, before I set up a shop section on this site.
When you are first starting out, you will need to gain a bit of traction before you can earn anything, but you can get yourself set up ready to go from the start.
Affiliate marketing is where you recommend a product or service to someone and if they click through and sign up, the company will give you a small commission as a thank you for pointing them towards them.
You know when you do something like sign up to Sky, and they say if you recommend a friend you can both get £100? That's pretty much the same thing that you can do on your blog, although not many affiliate programmes will pay out that much!
If you are serious about affiliate marketing and want to get training and information from a blogger who makes £5000 per month from affiliates, sign up to How To Smash Affiliate Marketing As A UK Blogger*.
Sponsored posts are when a company pays you to write about them specifically. It kind of goes without saying (although not everyone does this), that you should only do this for companies who you have personally used or would use.
When you have a blog, readers will look to you for advice, and you can influence their decisions.
As your blog is growing, it's likely that brands will find you and reach out to you, but there's nothing to stop you from pitching to them if there is a brand that you want to work with.
Find out who their PR contact is (you could look on their site, LinkedIn or message them on Twitter for it like I do!) and pitch them an idea.
With ads, you can pop some adverts on your site using ad networks like Google Adsense or Media.net*.
#8 Apps
There are a ton of apps out there that can help you make money, and I'll list some below that can definitely help you top up your income! The best thing about apps is that you can use them pretty much anywhere, at any time, so they're really handy.
Vypr
Job Spotter
Curious Cat
Shoppix
Task360
If you do these things that I've listed, you will definitely make an extra £100 – if not more. I know that it's scary and a bit nerve-wracking when you are starting something new, but we aren't re-inventing the wheel here.
These are tried and tested things by myself and loads of others. I wouldn't recommend anything dodgy to you, or anything where there is risk.
I honestly thought that there would be nothing that I could do that would bring in extra money, or that it would be pointless – but look at me now. I'm in the best financial position I've ever been in, and it's all because of the extra money that I've earned.
I couldn't have done it without all of the income on the side I had coming in on top of whichever job I was doing at the time.
So to sum them all up for you:
I'm currently working 25 hours per week but I am still hustling in addition! There are things that I want, and working hard is going to get me there. Can you join me?