Cheap Date Ideas When You're On A Budget
Want to know how to find fun date ideas with no money? There are lots of ways to show romance, and within this post you can find cheap date ideas for teenage couples, as well as cheap indoor date night ideas. Enjoy!
You've probably heard of 'Netflix and Chill' which is the new 'date' night idea that has been sweeping the nation – basically just watching films on Netflix and chilling out inside your home – which is great for everyone's bank balance!
Having a date night with your partner is very important for feeling connected with them, especially if you have kids because it's easy to get caught up in work and household tasks, which can take the spark out of your relationship.
The cost of this can add up if your date nights are big ostentatious affairs, which is why the modern date night of Netflix and chill has become so popular.
Setting aside some time such as once a week, or even once a month, to go on a date night with your partner will do wonders for your relationship and general well being, so I've put together a list of free or budget-friendly ideas that you can do with your partners.
Film Night In
Put together a hamper filled with a DVD, popcorn, crisps, sweets, chocolate…whatever you like! Bring down your duvet and snuggle up on the sofa with your partner. Turn the lights off for a cinema experience. 
I love these popcorn holders – they are perfect for a movie night!*
Go For a Romantic Walk
Great to do in any season – going on a romantic walk with your partner can be great because it gives you lots of time to talk to each other and enjoy each others company. If you have dogs you can take them with you too, or ask a friend if you can borrow their dogs.
Go For A Picnic
Going for a picnic with your love is a good old-fashioned idea for a date that everyone loves. It can still be done on a budget, and will certainly be cheaper than going out for a meal in a restaurant. Pack strawberries, sandwiches, grapes, bread, cheese and anything else that you love to eat.
Indoor Beach Party
Even if it's not hot outside, crank your heating up to tropical temperatures, pop your swimming costumes on and have a beach party! Make cocktails, put your sunglasses on and have a dance to some summer tunes.
Go on a Mystery Shop
You can get free items when you go mystery shopping, and this can be a fun experience anyway because you both know that you are 'undercover', so it's different from your usual dates.
My favourite mystery shops are food ones – because who doesn't love free food?!
I've had lots of free meals out before, and some when you have to go as a couple, with a 2 or 3-course meal with drinks included. The perfect cheap date night!
Read more: Mystery Shopping – eat for free and make money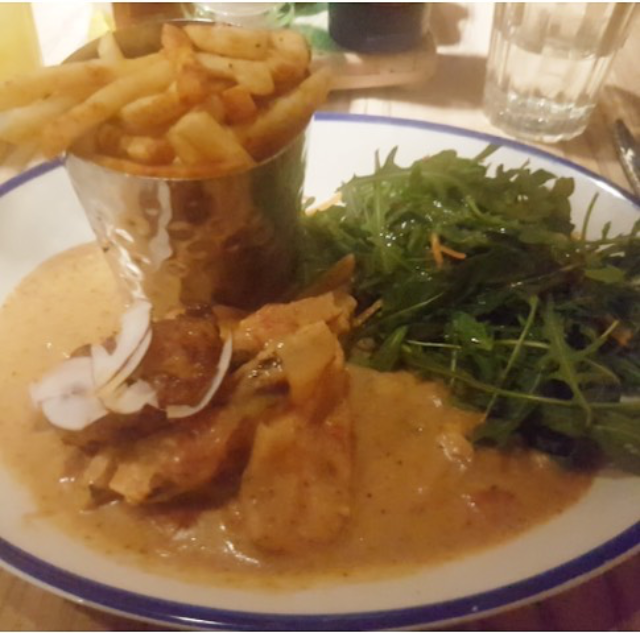 Games Night
There are lots of games that you can play during games night – get a stack of cards out and play some card games, beer pong, board games, twister, there are loads of fun adult party games that you can play with just the two of you.
Build a Bonfire
Make sure it's safe and build a bonfire to snuggle up with your partner around. You could make s'mores and toast marshmallows with hot chocolate. Perfect!
Go To An Arcade
This can be such a fun little trip to do with your partner. Empty out your piggy bank, take all of your coins and play on the arcade games. You may even win something!
Cinema Trip
As you may remember from my previous post about saving money on going to the cinema, you can watch films for free, or find some very cheap deals for a cinema trip.
Museum Trip
There are lots of free museums around that you can have a wander around with your partner and makes a nice change of scenery.
Bike Ride
If you don't have bikes, see if your neighbours or friends have any that you can borrow for the day. Map out a route, take a picnic with you and get some exercise at the same time. In my area, a lot of people cycle to the next city with pub stops along the way!
Beach Trip
Taking a trip down to the beach is the perfect summer activity, but can also be done out of season and at any time of the day. Take a picnic with you and drinks, some games or a ball and have some fun!
Bowling
Check out your local bowling alley for when they have their deals on and have a cheap date night out – this is great to do with friends also.
Mini/Crazy Golf
This is definitely a date idea that is becoming more and more popular nowadays and is something that the men really enjoy but can obviously be fun to play together. Look out for deals, but they generally aren't very costly.
Camping Trip
Camping trips are the ultimate frugal getaway especially if you already have all of the equipment or can borrow it from your friends. Make a list of all of the things that you need to take and work out some cheap meal ideas. Great to get out of the house and snuggle up together! You could always just do this in your back garden too.
Play A Sport Together
Sports such as badminton can be done in the garden and can be a lot of fun and very competitive which will get you giggling!
Fruit Picking
Perfect for this time of year because there are a lot of blackberries ready to be picked! This can be such a fun little activity and you get to eat them after or make them into a pie!
Geocaching
As mentioned in my post about cheap activities to do with the kids, geocaching is like a big treasure hunt where you find locations using an app on your phone. Sometimes they have items to trade when you find the cache!
Side Hustling Together
There are lots of different ways that you can side hustle together. Side hustle is an American term which refers to a side job to earn extra cash. You could go to a car boot sale to find some very cheap items to then sell on later for a profit.
Related posts:
How To Make An Extra £100 This Month
10 Ways To Make Money Online From The Comfort of Your Home
Local Festival
There are quite a few local festivals always going on but particularly in the summer where you can walk round and do various activities. Be sure to check out local beer festivals!
Local Gig
Have a look round for local gigs or stand up comedy nights that are free or cheap – you never know what you might discover!
Romantic Meal In
Either cooking for your other half or them cooking for you (you could take it in turns) can be incredibly romantic because they have to make the effort and this is really sweet. It's definitely a date night that is underrated.
You could do just one main meal or make it a 3 course one to be extra special. Set the atmosphere by lighting some candles and turning the TV off. Keep to a budget for the food to keep the cost down.
Make a Blanket Fort
Not just for kids – type 'blanket fort' in Pinterest and it will give you so many ideas! Use rope, lots of blankets, cushions, fairy lights and cosy up together to watch a film or just chat all night.
Go Metal Detecting
If you have a metal detector or can borrow one, take a trip to the beach or even just in your garden and see if you discover any treasures!
Riverside Pub For Drinks
This is a suggestion from my partner when I asked him where he would like to go on a date that wouldn't bust the budget. In the summer this can be perfect because you can have a chat and enjoy the sun.
Re-Create Your First Date
No matter what your first date was, it's fun to re-create this exciting first date!
Make Ice-Cream Together
A really fun activity and you can make the ice-cream for your partner and vice versa, go crazy with sprinkles! There are lots of cheap ice-cream recipes out there for you to try.
Play Video Games Together
If you have a video games console, or can borrow one (second-hand ones go quite cheaply if you look on Gumtree or similar), you could have a video games night and play games such as Mario Kart – it will be a lot of fun and very entertaining!
Go For a Walk At The Seaside
Everyone loves a walk by the seaside, it can be very calming and great in the sunshine. You could get some fish and chips for a budget meal.
Go Through Your Wedding Album
Set a night aside to go through your wedding album or wedding video if you have one – it's very romantic and can be funny to look back on old photos.
Have A Night Off
By a night off I mean turn all your devices off – the TV, your phone and leave them off all night. This means you will talk a lot more, and enjoy each others company. You could build a blanket fort as previously mentioned!
A great thing to do on a night in like this with nothing to distract you is make future plans together. Get a bunch of travel brochures to plan a future holiday and go over it all night. There's nothing more exciting than having something to look forward to.
Drinking Games
Have a night of drinking games together. You could make each other cocktails if you stick to a certain theme (we've done a 4th of July one before) and play beer pong etc, you could get your friends over too to join in with this.
Does anyone do a 'date night' with their partner or have any budget date night ideas? I would love to hear from you in the comments!
Related posts:
The Budget Planner That Will Change Your Life