Best Jobs For Stay At Home Mum's
I obviously can't speak for every mum out there, but once I had my little bundle of joy I immediately realised that I did not want to go back to my old full time job – I wanted to spend all of my time at home with her. After all, when they are babies they change each day, and have important milestones that you don't want to miss such as their first word and learning to walk.
Unfortunately many parents are finding themselves in the position of not being able to afford to not work, and end up going back to a full time job. I wonder how many people would love to be stay at home parents? If you are one of those people who would love to work at home and have your children around every day, I have some job suggestions for you that can enable you to do just that.
Personally, I took on an evening job where I could work from home, which I have been doing every evening for 4 years now. The job was great for me because I could still earn a little bit of money and spend all of my day with my daughter, but I have to admit, the pay is not the best. The jobs listed below can earn you a decent income, especially if you hustle as hard as you can.
Blogging
I had to include blogging! I love blogging, and I love that I can earn some money from it too. The main reason that I love blogging is because it is an amazing creative outlet where you can put together all of your thoughts, feelings and ideas and put it out there for like-minded people to digest. Some people accidentally stumble upon making money from blogging, whereas others are more strategic in a money making plan. There are plenty who feel slightly squeamish about making money from blogging, but why shouldn't you when you put so much of your time and effort into it?
I have a step-by-step guide on how to set up a blog, and I have also put together my favourite blog themes as I believe having an attractive, easy to navigate blog is key when attracting and keeping visitors.
I only work on my blog part time (in between two part time jobs, University and my daughter) so if you are able to commit more time to it, there is no reason why you can't do a great job. There are bloggers out there who earn no money at all – or at least they don't do for years, but I believe that it is possible for everyone to earn money right from the beginning. Of course it helps if you have millions of visitors to your site, but even if you have a handful of visitors, if they love your stuff, they could be your first customers.
There are various ways to make money blogging, such as:
Affiliates – when you recommend a company or product and the visitor clicks on your referral link to earn you a commission
Sponsored Posts – companies will contact you wanting you to create a blog post about their product. I see certain niches doing really well with these, such as parenting bloggers.
Adverts – you can display advertising on your site. I am a bit on the fence with ads because I do not enjoy them as a reader. However ads are a great way to earn some money on your site from day one. Try Google Adsense or MediaVine.
Product – there are many products out there from bloggers if you look on their sites such as eBooks, planners, courses and more.
Service – you could offer up your services, I personally offer writing, proofreading and social media management (shoot me over an email if you need someone!)
Warning – blogging is incredibly addictive!
Dog Boarding
Dog boarding is where you look after dogs in your home when their owners go on holiday. Dog boarding isn't the only pet service you can offer – there could also be dog walking, dog sitting, cat sitting, small animal care.
I personally only do dog boarding, as dog walking every week is too big a commitment for me as I also work part time in an office and my days swap around.
I love dog boarding because it is an incredibly easy way to earn money from home, and your business can grow however much you want it to. You are in charge – you can decide how many animals you wish to look after and how often, and if you need a break or want to go on holiday then you simply don't book anyone in.
When I was first starting out with this idea, I had no clue where to begin. I randomly stumbled across a website that acts as an intermediary and is where I have got all of my work from. I wrote a blog post that explains it all in detail here.
I find a lot of people dismiss this idea because of having their own pets, but I do really urge you to give it a go. I am pretty fussy about the types of dogs that I look after because I have a young daughter – I feel more comfortable having small dogs around her and particular breeds too.
Child-minding
Childminding is a great business to have if you want to stay at home with your children and if you love children in general! It's a win-win situation for you because your kids will have friends to play with, and you will be getting paid for it.
There are some restrictions though on how many children you can look after, and the pay from what I have seen offered is generally quite low to compete with nurseries, but I see no reason why you cannot charge a larger fee if you are an excellent childminder – people will pay more especially when it comes to their children.
You must apply to:
the Early Years Register to only look after children aged 5 and under
the Childcare Register to only look after children aged 5 to 7
both registers to look after children of any age under 8
There are different rules for different council areas, so check with your local council for relevant training courses. Here is the link for registering as a childminder in the UK.
Freelancing
One of the most popular stay at home jobs is freelancing – because you can do it from anywhere, and whenever you want. Obviously you would have deadlines that you have to complete the work by, but it won't matter to the client whether you complete it at 10am or 10pm, and you can do it in your pyjamas if you wish!
Some of the popular freelancing jobs are:
Writing (blog article creation for example)
Virtual assistant
Social media management
One of the best ways to get into freelancing is to have your own blog. The reason for this is because it acts as a showcase for your skills – if they can see that your writing is excellent and you do well with social media, then this would show off your skills.
I have put together a post full of tips on how to become a freelance writer here.
Mystery Shopping
Believe it or not, there are people who do mystery shopping full time! I love mystery shopping, but it's definitely a part time side hustle for me that is very enjoyable.
Mystery shopping is where you are assigned a job by a company to try out their service and/or product and then complete a report about it.
There are a variety of companies available, such as restaurants, bakeries, betting shops, airports, petrol stations and more. I was really surprised when I first signed up at how many were available, and the huge companies that take part in them on a regular basis.
My favourite mystery shopping companies are:
Marketforce
Grassroots
Red Wigwam
The Mystery Dining Company
If you are strategic about your assignments and sign up as soon as they are put up, you could be busy every day and never have to pay for any meals! I have had so much free food though mystery shopping – breakfast, lunch, tea and snacks. If there's something that I love more than food, it's free food.
There are also mystery shopping apps available that ping when you are near a shop that needs a job doing.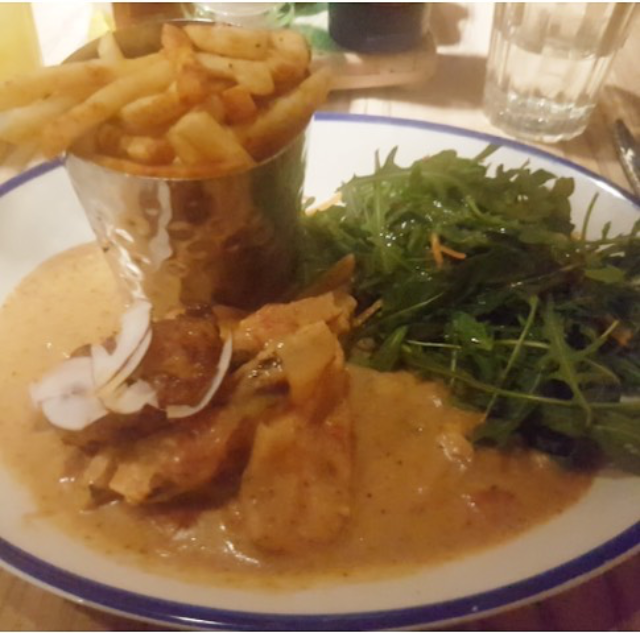 Re-selling/Flipping
Another popular way to make money from home – this is really exploding in 2017 and I love watching and reading about how everyone is getting on. I've started doing it on a smaller scale because I don't have a lot of money to put into stock to start with, but once everything is sold, this can be used to purchase more stock.
Re-selling or flipping is basically where you buy items at a low price, and then selling on sites such as eBay or Amazon for a high price. There are some items which do better than others that you need to look out for. As a general rule, you should not go for anything that is more than 50% less than the end sale price.
Over at Flea Market Flipper they do this as a full time job, and earn a ton of money from it. I had the chance to interview Melissa to get some insider tips.
Do you work from home? What do you do?
Blogging is my favourite way to earn extra money. Follow my step-by-step guide on how to start a blog here.