Hey beautiful.
My name is Francesca and I want to share my money journey with you, so you can see the things that have worked, and the things that haven't!
Before we get into that though, a bit of info about me so you know who you are reading about – I'm a mum of one to an amazing daughter, and I have a lovely partner called Massimo.
We live in the South-West of England, where I run this site and have a bunch of other side hustles.
I'm usually either with my daughter, boyfriend, working at the office or typing furiously away at my laptop at home surrounded by paperwork and a cup of tea, or on the hockey pitch (I've won the league 3 years in a row now!).
I haven't had a great time with my finances, but my hope is that I can share with you the ways that I have managed to turn my money situation around, to show you the best ways of doing so.
I wish that I'd had someone to show me what to do when I was struggling, so that is what I want to give to you!
I want to help you get more. More Money. More Time. More Living.
My mission is to help 1,000,000 women achieve financial freedom.
Short version:
Had my baby, realised that I didn't want to return back to work because I loved being with her and my job wasn't anything special.
Realised that maternity pay was tough to live on, and then when that ran out I got a part time job in the evenings from home, which paid peanuts again.
I ended up getting into debt, and feeling like I was drowning. Not a fun time for me.
I managed to save a deposit for a shared ownership house (30% buy, 70% rent) and getting married to my now ex-husband.
It was a tough few years, and I felt stuck without knowing how to get more money in. But then I tried stuff out, and it worked! I earned extra money and budgeted it as best I could.
I ended up leaving my unhappy marriage, surviving as a single mum and wondering how I could save up a house deposit for a house for the 2 of us in a nice area.
Ended up meeting my partner, who is the love of my life…and we have now bought a house together for the 3 of us, and we are all so happy!
Something that has really helped me, and I hope will help you, is my budget planner.
That's the super short version of my story – read on below for the full version!
2011
This is the year that I gave birth to my beautiful baby girl, and she changed my life forever.
I had always been really well organised, but when it came to having my daughter I had gotten carried away with the idea and the love I had for her already, that I didn't create a long-term plan for my finances.
In my head I had vaguely thought that I would return back to work, but I ended up handing in my notice, as I realised how huge the nursery fees were, and I wanted to spend my time at home with my babe.
2012
I was really lucky because I had been approached by someone who knew that I was at home with my daughter – they wanted to offer me a job working from home.
I said yes of course, and I did this job every evening when my daughter went to bed and during her nap times too. It didn't pay well at all, I got a few hundred per month from doing this, which had to go on rent (was living with my mum) and food for my daughter and I.
2013
Even-though I had a tiny salary coming in, I knew that I wanted to buy a house for the 3 of us. I scrimped and saved and became extremely frugal – which I don't recommend, because I went a little bit crazy.
In order for my daughter to have the best food, I had to have the worst food. Cue years of eating plain pasta or vegetable soup every.single.day. Urgh!
I managed to save up enough (I think it was about £5000) for a shared ownership house – the part that I was buying was 30%, and the other 70% was rent. I was so proud of this, even if it had taken me 2 years to do so. The house wasn't in a great area though, which we realised when we were broken into and all of our stuff stolen after 3 months of living there.
2013 – 2015
I'm not going to lie, I found these years very tough, as I had no money coming in apart from my small job, and I was really struggling as I couldn't ever take my daughter out anywhere or buy anything.
We basically lived in the library because there were free books, colouring and she just loved it.
I didn't have a car at this point, and I think it was about 4 years that I went without having my own car, which is difficult when you have a little one!
My ex-husband and I also got married in 2015, which meant me putting a lot of it on credit cards and taking out a loan. I also got into debt for things like decorating my daughters room.
I knew I didn't have the money, but I had such strong mum guilt that I did it anyway.
2016
My daughter started school this year, and I was determined to find a part-time job that I could do during school hours, so that I wouldn't have to pay childcare and I could be the one dropping her off and picking her up everyday.
I was very picky about the jobs that I applied for, but I was nervous that I wouldn't be able to find anything due to all of the other mums who would be looking for school hour jobs.
But guess what?
I found one! I couldn't believe my luck – I found a job where I would be working 3 days a week doing 9am-2pm and it was only down the road from me, meaning I could take my daughter to school every day and pick her up too.
At this point, I was also still working my part time job in the evenings too, and I used all of that money to pay for my bills, and threw the new money from the new job at my debt.
I had also started looking for ways that I could earn extra money. I was really nervous and apprehensive about it all, because I didn't want to lose any money, and I wasn't sure what was a scam or not.
However, I knew that if I wanted to make a change in my life, I was going to have to try some new things.
So I did!
The first thing that I tried was mystery shopping. I couldn't believe that I could get so much free food (I mainly did food ones, I think because I would never treat myself to food out, so it was a nice treat for me).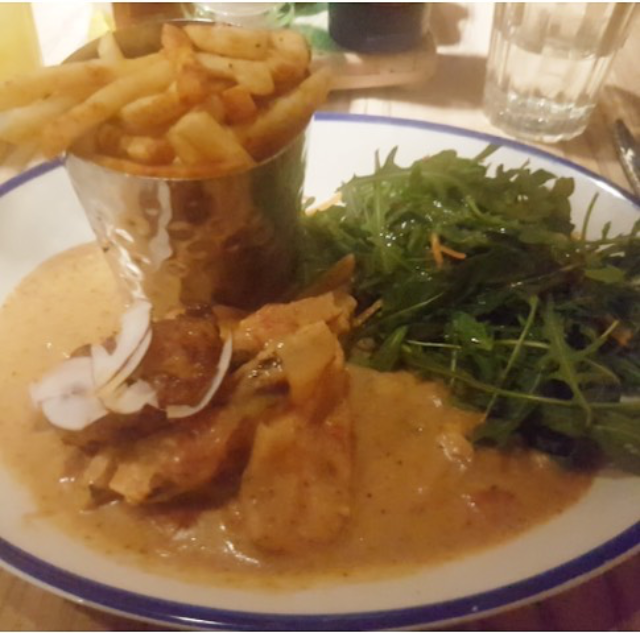 Motivated by the fact that I'd tried something new and it worked, I set to trying out some more new things to try and bring in some extra money, that I could do around my daughter and my work.
Next up, I tried surveys. My favourites are Prolific and YouGov* because they pay out well and they aren't at all spammy (they are run by researchers and the government).
My daughter kept bugging me to get her a dog, but I knew that I didn't have the time to have a dog of our own, plus deal with all of the additional costs. So I got to researching, and found that I could do dog boarding.
This was my way of letting my daughter have a dog around, but it meant I could just not book in any work if I was too busy, and it also meant that I was getting paid for it too.
I had no experience of dog boarding, but I grew up with a dog, and looked after my mums dogs occasionally, so I set myself up on a website and was honest about that.
It was a bit quiet at first, but as soon as I got my first client, it all snowballed from there. I did my best to be the best dog boarder that I could, and am still rated as Number 1 in my city.
Something that I had heard about but was mega wary about, was matched betting. I did lots of reading and research on it but this ended up confusing me. In the end I just went for it!
I was glad that I did, because it's actually really simple to do once you get started, and you can join the site that I used that guides you through with step-by-step tutorials and videos.
I also started this blog! I wanted to help people who had been in the same situation as me, as I didn't want anyone to feel as helpless as I did.
I am incredibly proud of this blog, and I still can't believe that through this blog I have been on TV (BBC One no less!), the radio, in newspapers (The Financial Times!) and magazines.
One of the best things that I have ever done is start this blog. It's given me confidence, a source of income, new friends, and the feeling of helping people is the best feeling ever.
2017
This is the year that I managed to pay off my debt, in March. I couldn't believe that I had done it, but it was the best feeling in the world!
I was determined to not get into debt again, so I kept all of my income streams on the go and used them for building up savings, and paying for things that I had been without for years.
This is also the year that my marriage ended.
The first thing that I did after paying off my debt was start to save up to take my daughter on holiday. She had never been abroad on holiday before and I knew that she would love it, so this was my goal.
I used all of the extra money that I was earning to take her away, and it was the best.
Because of the change in my finances, I had to make sure that I had a budget that was as good as I could get it, and I followed this to the letter.
2018 – 2019
As all of my debt was paid off, I started to save for the things that were important to me. Back when I had no money, I was able to clearly see the things that would bring me joy, so I made some goals and set about saving up for them.
I saved up for and paid for: another holiday with my girl, a second hand car, Invisalign and laser eye surgery.
I added another income stream: freelance writing. I had always dreamed of being a writer, so to have this blog and writing clients is a dream for me.
I was determined to stay single forever, but this didn't happen! I met my partner Massimo, who pursued me and I ended up letting my walls down for him.
He is without a doubt – the kindest, sweetest man I have ever met. We share the same ideas and thoughts about life, which means that we are the perfect match. He is incredibly understanding and makes me feel happier than I thought possible.
We all moved in together in December 2018, and were saving up for a house together – which we have now bought and completed on in March 2019!
Because of the move, I moved jobs (applied for 2, got an interview with one the day after applying, then got offered the job immediately) and my daughter moved school. We are in a really nice area now, which means that she is in a really good school and doing so well, which makes me happy.
My boyfriend and I have big plans for the future, and I hope that you will follow along as I share them with you all as we go. Our BIG goal is to achieve financial freedom. We don't want to work because we have to, we want to be able to choose if we want to work.
To do this we are going to be saving for retirement (using pensions and investments), building up new and current businesses and overpaying our mortgage. I will be sharing content on this as we go! I want the same for you too. The peace, happiness and contentment that will come from financial freedom will be worth it.
I also want to spend a lot more time over on my Instagram, so be sure to follow me over there if you want to hear budgeting tips (including my real life budget & spending) and ways that you can earn extra money.
I have now made the switch to going full time on my blog – very exciting! I am also offering personal coaching.
I just won an award for Best Money Influencer too, which I'm extremely proud of:
I've recently completed my Financial Adviser diploma, which I'm very proud of 🙂
I hope that you will stay with me on this journey, and let me know if I can help you in any way as well!
Francesca xo
Posts to get you started:
The Extra Income Budget Method
How To Make An Extra £100 This Month
How To Make An Extra £1000 This Month